高效:电磁感应原理对铁质炊具进行加热,升温快,热效率高,提高出菜品率;
Efficient: Use Electromagnetic Induction to heating ferruginous cookers, thermal efficiency can reach above 90%.
安全:先进微电脑控制系统,具有无锅检测、超温保护、自动故障检测、电压过高过低及缺相保护;
Safe: Use microcomputer control system, no pot detection, over temperature protection, automatic fault detection, voltage unstable and Lack of phase protection are avalible.
智能化设计:五档火力循环调节,衡功律输出,循环散热结构;
Intelligent design: 5 level firepower circulation adjustment, constant power output, circulating heat radiation structure.
节能:不存在热传导和热辐射,比普通燃气/油灶节能50%以上;
Energy saving: There's no heat conduction and thermal radiation ,saving more energy.
环保:无明火,无烟尘,无废气,低噪音(45分贝),优化厨房环境;
Environmental protection:There's no flame,smoke and dust,exhaust gas and low noise(45DB),optimize the enviroment of the kitchen.
美观:全不锈钢精工细致,人性化设计,操作方便,高档耐用;
Beautiful:All stainless steel, humanization design, convenient operation, high-grade and durable.
实用:99分钟定时控制,体积轻巧,摆放方便,适合广大厨师使用。
Pratical:99Min timing control, compact size, easy to display, easy to use for majority of the chef.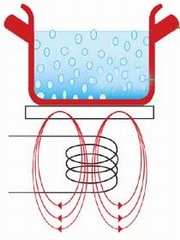 电磁炉节能、高效,清洁